UNIT 6: IN TOWN
Recording 126, page 168
A DAY OUT IN CHESTER
Exercise 1 Shirley, Vicky and Dave are in Chester. It's a beautiful old city. There are many things to see and do. Listen and read.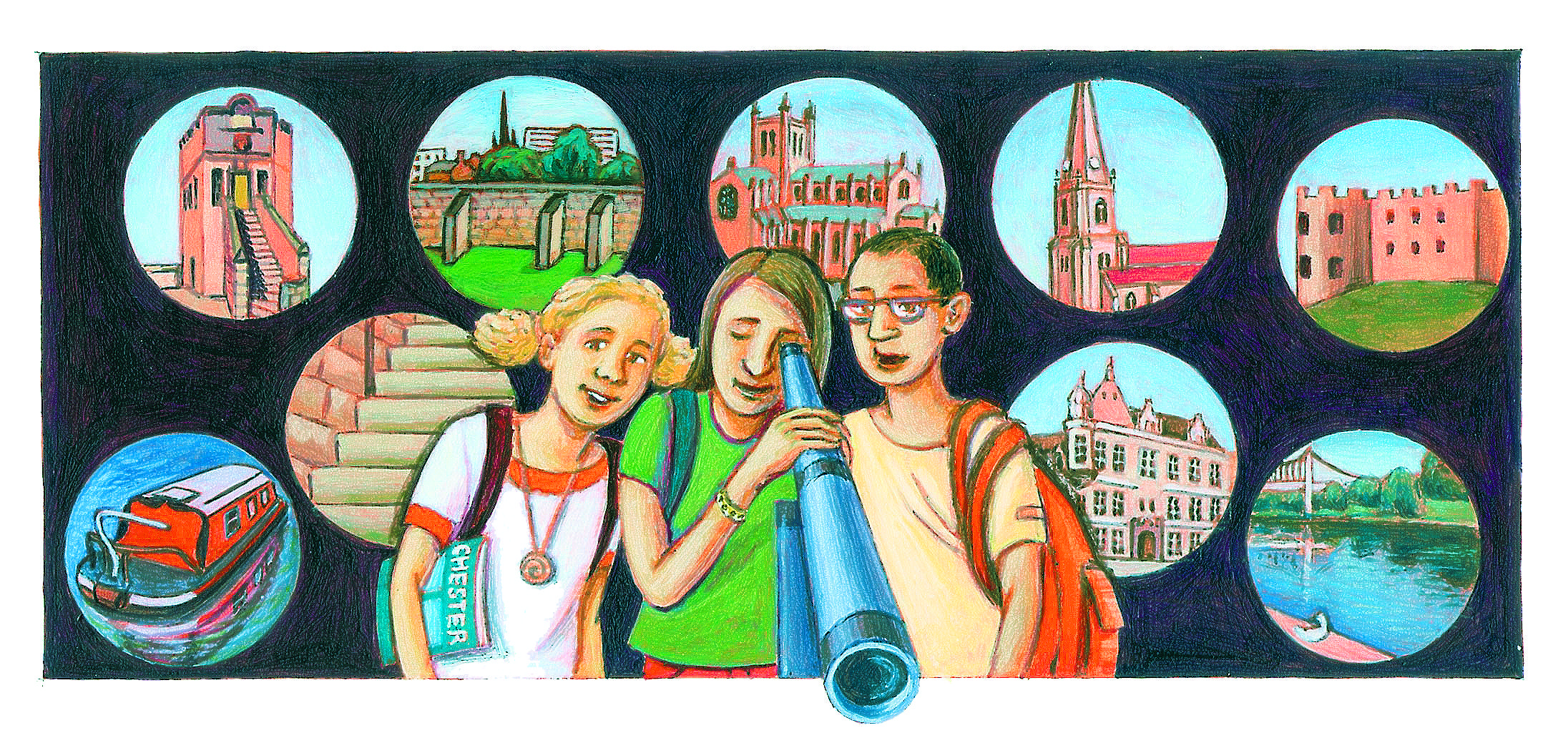 Shirley
Dave, are you coming? We're going sightseeing.
Dave
I don't want to go sightseeing. I can't stand old buildings.
Shirley
But Chester is a lovely city. There are so many things to see there.
Vicky
Yes, … castles, the city walls, churches, old houses, …
Shirley
… museums, the cathedral, …
Vicky
Come on, Dave. I want to see everything.
Dave
All right, all right. Let's go then.
Vicky
Shall we walk the city walls first? It's a good walk, up and down the steps …
Shirley
Yes. And from the walls there's a beautiful view of the city.
Dave
Look, there's a tower over there.
Shirley
Let's climb it and look inside.
Vicky
How many steps are there?
Shirley
1, 2, 3, 4, 5, 6, 7 … 23, 24, 25, 26 … There are 57 steps. I'm the winner!
Shirley
Look at the view. It's fantastic.
Dave
You're right. This is great.
Vicky
We can see the whole city. It's amazing!
Shirley
Look, there's a telescope over there.
Vicky
I can see the River Dee. There are some boats on it.
Dave
The Rows? What are the Rows?
Shirley
Let's look it up in the guide. It says that the Rows are … 'covered shopping streets dating back to 1139. They are black and white buildings, … they consist of double rows of shops, one at street level and another on the second floor. Shops open onto walkways which have to be reached by steps from the streets.'
Dave
I'm tired and hungry! Is it lunch time?
Vicky
I don't know. You always feel hungry.
Dave
I want to go somewhere else.